Since 1952
The key to providing unsurpassed North American trans-border service is to master the complex coordination of communications between Customer, Broker, Customs and Carrier.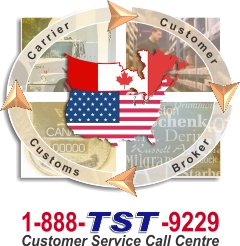 The TST-CF Express Cross-Border Advantage
X-Border Document Processing Centre
A team of representatives available to answer all your questions, explain the various documentation options and provide assistance in filling out customs forms.
Documentation Processing Specialists:
Located at key points of entry, their priority is in coordinating the timely transfer of documentation in accordance with each customers unique requirements.
Direct EDI link with Canada Customs:
The technology allowing us to be notified immediately by Canada Customs that a clearance has been approved, increasing service efficiency.